With race season in full flow, now is a good time to share our latest customer story.
A broad range of drivers with differing objectives walk through our doors at CAT. Whatever yours are: to gain confidence and stay safe on the roads; learn how to maximise your car on track; or to develop your race performance – we are here to make sure you achieve them – and have fun in the process!
For our long-time client Mark, his goals changed the more he learned. A serial track enthusiast and petrolhead at heart, Mark is now embarking on a new adventure. The pursuit of racing victory!
For inspiration on how to begin racing read on.

What is the first course you took with CAT?
'I first came to CAT with my old Lotus Exige Cup, joined by a friend, who has also undertaken training with the team. I was looking to improve my road driving in the car as well as learning the first steps in advancing my skills for track. The Performance Driving Course was perfect for this.'
Getting the bug
Over 13 months Mark took the Grip Limit and Optimisation Courses along with development training on track at Donington, Brands Hatch, Nurburgring and Spa.
Having returned from living in the US for a few years, what motivated you to get back in touch with CAT?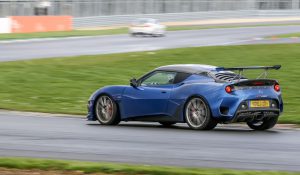 'Initially, I wanted to refresh my skills and apply them to my new Evora GT430. Like many enthusiasts the more I learned, the more I wanted to push further and so the discussions about racing developed from there.'

What Mark explains here is a common occurrence – we call it the CAT Racing Bug!
Whether your objectives stay the same or change over time, our courses are 100% tailored towards you, allowing for personalised learning methods and industry-level detail, which accels your progress.
Getting serious with the Race Academy
Once Mark began craving more speed, increased performance and more advanced techniques he decided to invest in his development by taking our Race Academy.
The CAT Race Academy developed by Chief Instructor Colin Hoad, an experienced racer himself, utilises our unique combination of engineering vehicle dynamic knowledge and motorsport experience, delivering a fast-paced programme giving you the racing edge.
The learning process with CAT is holistic and all the skills are interconnected. Braking, steering input in, throttle control, power application. Also understanding lines and how to dissect a track. But above all vision – looking through a corner to your destination or exit. It is everything.

All the work I have done with CAT has been first class. Structured, clear, precise, excellent feedback with the right mix of encouragement and constructive criticism. Also, great fun with very nice people.
Let's race!
Once Mark has completed his tailored Race Academy preparation programme he will be looking to apply his new racing knowledge next season – 2019.
'I am currently deciding which series will best suit my needs, but it will most likely be the Ginetta GRDC. It is a good entry level series, racing at some great UK circuits & also has the flexibility to fit alongside my other commitments.'
What outcome will you be happy with from your first race?
'To win!! Seriously, to have developed the skills and confidence necessary to be competitive and to race to the very best of my ability.'
Has this inspired you to take action?
Are you ready to make the best investment in yourself and your car, for road, track or race performance?
Contact us today for an informal chat on 01234 757 633 or email us at info@catdrivertraining.co.uk.
To stay up to date with Mark's progress and other CAT news make sure you are following us and signed up to our newsletter.