Insurance plays a vital part of our everyday lives, protecting us from the risks faced in business and for pleasure. Using your vehicle with CAT Driver Training:Due to the nature of the Millbrook Proving Ground – a motor industry testing facility – there is no insurance provided on circuit (see: FAQ's) and you will need to sign a Disclaimer acknowledging this is the situation.
Here's the overview on the companies we know are able to provide quotations for vehicle insurance at Millbrook:
Competition Car Insurance was founded in 1992 as a specialist broker and leading adviser to the motorsport industry. Since then they have built up a reputation as a quality provider of motorsport insurance and have expanded this expertise into the commercial insurance sector.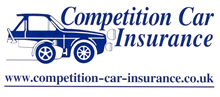 For motorsport enthusiasts they can offer a wide range of products including Event Cover, Track Day Cover and Personal Accident Insurance. For those in business, why not see how they can help you with their commercial insurance needs.
Now part of Towergate, Europe's largest independent insurance intermediary, they can also offer many other insurance products including household, private motor and travel.
Competition Car Insurance is built on the view that each individual or business is equally important to them and this has been the basis of their success. The hallmark of their business is to always provide a personal and professional service and nobody is too big or too small to deserve this from them.
For all your insurance needs please contact Competition Car Insurance on +44 (0)844 892 1966 and they will be happy to help.
---
Our driver training courses are also recognised by:

With its strong links to performance car clubs and driver training initiatives, Adrian Flux have teamed up with CAT Driver Training. For those that have taken the step to improve their driving be given a very significant discount:- our clients will receive up to 15% discount off their premiums through Adrian Flux.
---

Sky Insurance's target market is the car enthusiast, specialising in policies for members of car clubs and owners of Japanese Import/Modified or Performance cars. Sky Insurance believe that anyone who puts the time and effort into looking after or modifying their 'pride and joy' is a lower risk than your average driver. We are very happy to offer up to a 20% discount to qualified CAT Driver Training customers. Please check with the CAT office (01234 757633) for the correct procedure to apply for your quotation.