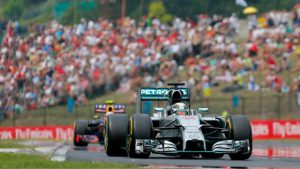 As Formula 1 made it's penultimate stop before the Summer break last weekend, I can't help questioning whether I'm going to miss it. Last year, the Hungaroring produced what was arguably one of the best races of the season… neither Mercedes made it on to the podium and the race was packed with incidents… it was a rare weekend of unpredictability in the current Mercedes era.  Sadly (outside of qualifying) – this year's race was so uneventful, the TV producers were reduced to showing slow-mos of F1 cars going marginally outside of the white line. It was hardly "edge of the sofa" stuff and of course it ended up with the usual Mercedes 1-2.
But having an uber-dominant team is not where the problem lies in F1. Before Mercedes we had Red Bull, before that Ferrari and before then, McLaren – it's certainly not new territory for one team to be dominating the top step of the podium week after week, season after season. So what else could it be…?
In a recent interview, Fernando Alonso highlighted what he felt was the problem – the cars, he says, are never really pushed to their limit anymore. They're under-fuelled to make them lighter and that means you need to drive the car conservatively for a good portion of the race just to get across the finish line. Tyres and their slim operating window further compound the problem. Push them anywhere near the limit and they overheat and need to be changed. The result is a bunch of ultra-high performance cars, being driven at between 80% and 90% of their capabilities in an effort to make sure they finish. Fuel and tyre management in the middle of a Grand Prix is beginning to turn laps 20-50 into nothing more than a parade of vehicles.  Even Max Verstappen complained after the first few laps of the last race that he was "driving like a Grandma".
Huge advances and a reliance on aerodynamic grip have also played their part. Watching some historic F1 footage earlier today, you could be forgiven for thinking that some of the cars were attached. They were driven so close together lap after lap until an overtaking opportunity presented itself. Nowadays, the closer you get to the back of another F1 car, the less grip you have and that's forced the introduction of another driver aid in the form of DRS. Haters will tell you it takes the skill out of an overtake, making it a formality… realists will tell you that without it, the average number of overtakes in an entire grand prix by all of the drivers combined was just 11 (source: http://cliptheapex.com/overtaking/) and this (DRS) is a welcome intervention.
There are new rules being introduced in 2017 which hope to address some of these problems. Tyres are going to be much wider as is the car itself and that should hugely improve mechanical grip. These changes alone are expected to decrease the average lap time by over 3 seconds; with increased mechanical grip also expected to increase overtaking opportunities. The rear wing is going to be wider and much lower and there's a range of other changes which will see the cars return to the pre 2009 era of F1. Only time will tell if these changes are able to bring back some of the excitement that has sadly been lacking of late.  In keeping with "bringing back the old" – perhaps it's time to bring Murray Walker back in to the fray… his commentaries would make parking my car in Tesco seem like a life or death situation.
For all those that enjoy a bit of historic (real) F1 racing – here's Mansell's heroic win in Hungary from 1989. Enjoy!