If you have an interest in cars / driving / motorsport and would like to write a future post for CAT Driver Training, get in touch today for more information at info@catdrivertraining.co.uk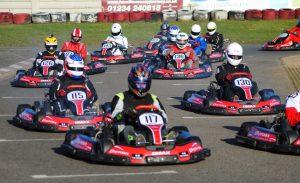 I always loved go-karting. I had a pedal kart as a kid, and drew race circuits in chalk on my parents' driveway. A little older, I got behind the wheel of one with an engine and things improved immeasurably. OK, so I wasn't at Buckmore Park every weekend but on the occasions I did Arrive & Drive, I was always one of the quicker drivers. And I loved it. My wife banished the plasticky trophies to the loft, but I didn't care.
I enjoy cycling too, and I've done a couple of 'team' 24-hour mountain-bike races. So when CAT invited me to take part in a 24 hour go kart race at Daytona Raceway Milton Keynes, I really didn't need much convincing. Karts, 24 hours, team CAT; what's not to like?
Plenty, it turned out. An ill-fitting helmet, an ill-fitting seat, an ill-fitting race overall, and pockets full of heavy metal, mocking my too-light race weight. Then there was an angry old shoulder injury and, in the dead of night, achingly cold fingers more painful than anything I can remember. But worst of all, I was slow. Really slow. Constantly being passed; constantly being lapped. Nothing was right; me, the kart, my lines, my times. It was all I could do to survive my first few stints. Fellow team members kindly stepped in, and I bailed on my remaining slots. Not my finest hour.
Team CAT were very supportive and understanding, but I left Milton Keynes profoundly disenchanted with go karting. I had my excuses, but something else was awry.
Only months later did my brain finally put the broken parts of those 24 hours into one piece to reveal what was missing. My competitive streak. My racing instinct. My edge. Despite all the nonsense with seats and weights and helmets, I had come to Daytona expecting to race, to push hard for times and position. But I didn't. When the chips were down, the urge simply wasn't there. Instead it became survival, and I wasn't the fittest. Somehow, somewhere, my former enthusiasm to race had left the circuit. DNS, to be honest. This was the missing piece in the jigsaw; it was why I'd left Milton Keynes so confused by an experience that should have been so positive.
On reflection, the clues have been there for years. I don't play team sports, I've never truly been fussed by competitive motorsport, I haven't been to The Ring and I've never tracked a car. (Knackered the tracking, yes, but never done a track day.) Because it turns out that I don't truly care about racing others. Only myself. My drive and energy are focused inwards. I get a kick from driving cars on the road for the same reasons that I enjoy cycling and skiing; control. In these environments, momentum and direction, fluidity and effectiveness are the challenges, and the only person I'm competing against for a measure of improvement and a sense of achievement is myself.
That's why I enjoy cranking a car around Millbrook's circuits with Paul or Colin. It's all about me, not those around me. And when I sense improvement, and see results, it's hugely satisfying. Like winning at karting must be. A different outcome, but the same buzz. Happily, that inward-focus has made me a better driver. By seeking out coaching and tuition, and by playing around with cars away from the highway, I've developed greater emotional awareness alongside more conventional skills and experience. Knowing when to push hard and when to ease off is critical, to my mind. Whether racing or tackling a B road, driving is never 'everything, everywhere'. And that's what I love about cars; so many different ways to enjoy them, but the same unifying passion at the end of the day.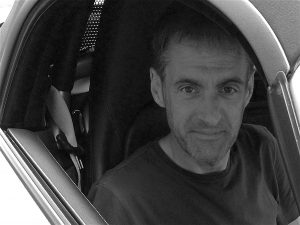 Christian is a surreptitious petrolhead. He learnt to drive in a field and has never been to The Ring. Credentials include a Caterham Seven (modified), Lotus Elise (tweaked) and Porsche Boxster (fettled). Motive appreciation always usurps fandom, however; anything cared-for will always catch his eye.