One of the Most Challenging Days You will Spend Behind the Wheel at Grip Limit
Our emphasis on your development through unique motor industry training techniques separates CAT from any other driver training company. Test engineers drive with unparalleled precision and comfort at grip limit. The Grip Limit course held at the Bruntingthorpe Proving Ground has been designed around core motor industry training exercises – advancing your road and circuit skills to a professional level.
Morning Session – Exploring Grip Limit
Dedicated slalom and lane change exercises develop your skills against the clock in the following areas:
Optimising grip from a standing start
Body posture
Seating position
Observation
Linear steering inputs
Spacial awareness
Threshold braking
Grip limit identification
Robotic isolation
Understeer and oversteer identification and control and
The relationship between pedal speed and vehicle balance

You will explore how to correct an oversteering vehicle at speed at grip limit, working on the relationship between vehicle yaw rate and counter steer input, and as importantly what to do with the gas pedal when correcting oversteer.
Through varying damper settings, you evaluate the dynamic change of the vehicles platform at grip limit, promoting your awareness and understanding of the dynamic messages relayed to the driver at speed. These often ignored coaching scenarios give you the skills to improve lap time, safety and driving enjoyment.
Afternoon Session – Driving to Grip Limit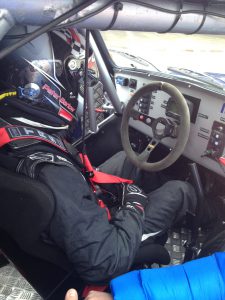 The large run off areas at Bruntingthorpe allow you to explore high speed cornering techniques at grip limit in safety. Negotiating turns at speeds in excess of 100MPH, you will achieve and master the skill of true grip limit cornering. Optimum apex speed is your goal but how do you achieve it? You will dissect the corner from the braking zone to the exit phase, balancing control inputs with platform balance and speed, lap after lap until you are comfortable and relaxed at the limit of adhesion.
You will leave this day having advanced your comfort and capability at the limit of grip.
Due to the nature of the exercises and the aggressive effect of the airfield surface on tyres, it is mandatory to use CAT vehicles for the majority of our training activities at Bruntingthorpe. The last hour of training can be carried out in your own car if you would like to.
Information
Duration: 8 hours
No. of Trainees: 1
Location: Bruntingthorpe
Price: 1:1 basis £1850 using CAT vehicles throughout with 1 hour session in your own car in the afternoon
Price: 1:1 basis £2100 using CAT vehicles throughout
Lunch and refreshments included
You must have completed the Performance Driver Course before you can take part in the Grip Limit Course.
Academy Programme day 4 – Drifting & Over Grip Limit Handling
Academy Programme day 5 – On Circuit