Day 1 Completed, You're Now Driving Confidently at Speed with a Systematic Technique
The emphasis now shifts from focusing on you the driver, to the vehicle you are driving and the circuit you are driving on.
Our objective on this day is to awaken your senses to the dynamic platform you are driving, examining each corner and evaluating the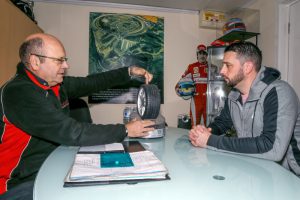 vehicles performance from a steady state driver benchmark. You will enjoy dissecting the Millbrook Handling Circuit and Alpine Loops corner by corner to optimise speed and safety. Unravelling the mysteries associated with optimum lap times you will know what is the fastest line and understand why.
A damper tuning session will see you explore 7 ride and handling evaluation criteria, adjusting the vehicles platform to your driving requirements. By analysing the change in the vehicles characteristics you will optimise your lap time and the vehicles drivability.
Introducing circuit focused techniques such as trail braking, left foot braking, heel and toe and reference points, each discipline builds your preparation for day 3 of the Academy Programme – Grip Limit. Are you ready?
Your instructor will be looking for consistent flawless laps against the clock around the challenging Millbrook Handling Circuit – the target is within 200ths of a second of each other. Consistency is king. Only when you can drive consistently can you work out how to go faster.
Information
Duration: 8 hours
No. of Trainees: 1 or 2 – at your request
Location: Millbrook
Price: 1:1 basis £1475 using your car £1790 using CAT vehicles (
Subaru BMW or Nissan 350z
Price: 2:1 basis £775 pp using your car £940 pp using CAT vehicles (
Subaru BMW or Nissan 350z
Lunch and refreshments included
You must have completed the Performance Driver Course before progressing to Optimisation
Academy Programme day 3 – Grip Limit
Academy Programme day 4 – Drifting & Over Grip Limit Handling
Academy Programme day 5 – On Circuit