A structured half or full day high performance driver training with a carefully crafted itinerary designed to cover the key aspects of high performance driving, effectively bridging the gap between both road and circuit techniques. Day one of a five day programme, your journey of discovery starts here. You will visit and enjoy the 5 key circuits on the Millbrook Proving Ground. A dedicated circuit for each learning experience, there really is no better place in the country to begin your high performance driver development programme.
Your full day will consist of the 5 core elements detailed in the tabs below.
Braking
The corner starts a long way before you turn the steering wheel! You will experience and perfect:
ABS braking
ABS brake and avoid
Threshold braking
High G linear retardation of a vehicle from high speed
Effective braking techniques reduce your lap time and structure the turn in phase of a corner. You will explore and develop specific braking elements in finite detail, on a circuit designed for the task. No TRAFFIC, NO LATE BRAKERS, NO ONE SITTING ON YOUR BUMPER. Just you, the car and your instructor and as many runs as you need to perfect your technique.
High Speed Driving
2 miles of banked tarmac, 5 lanes – a perfect circle. Tiff Needell holds the official record at 197 MPH, a Porsche test driver the unofficial record at 206 MPH. So yes, you can train in safety well within the envelope of grip at speeds up to a maximum of 130MPH. You will focus on the core elements of driving at speed, the subtle changes in technique required for you to remain safe and in control. Let's not ignore the car, compliance steer, bump steer and role steer to name just a few, all affect the behaviour of your vehicles dynamic platform when driven at its limit of adhesion. You will FEEL and isolate these dynamic characteristics, in safety. The result, true comfort and dynamic harmony with your vehicle at speed.
Understeer & Oversteer
An open expanse of slippery concrete or tarmac, "line trace" the painted radius at grip limit to explore understeer and oversteer. Discover the relationship between throttle and steering inputs when at steady state grip limit. As you make a steering input there is a friction loss between the tyre and the road. In this scenario the throttle pedal levels the car through a turn and steers it at grip limit. Explore your limits and the vehicles, drive at the limit of adhesion in safety on a dedicated exclusive use circuit.
Circuit Cornering Techniques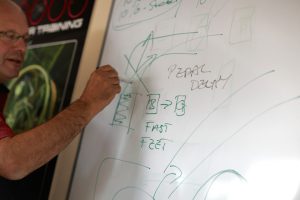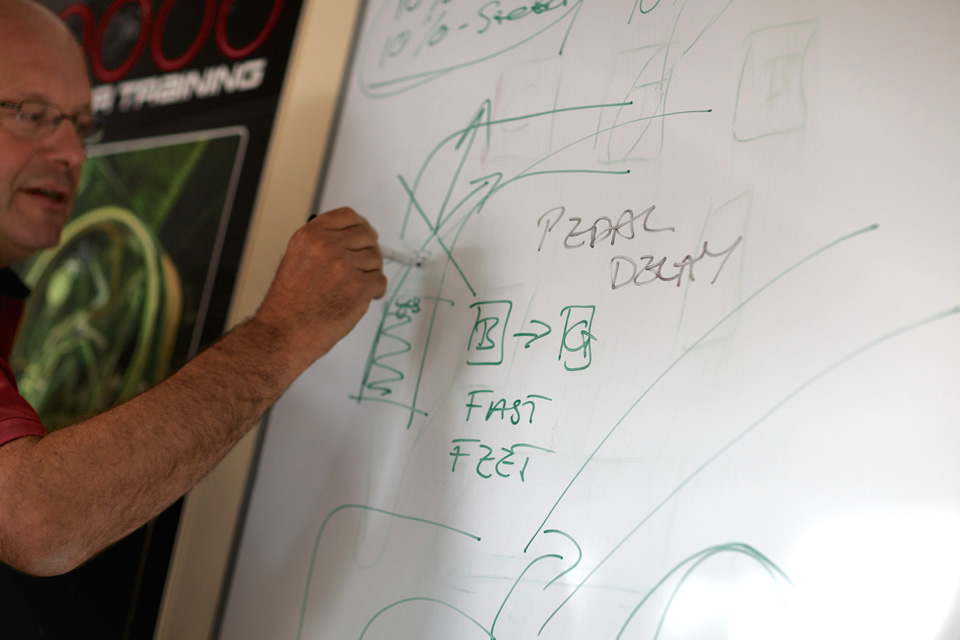 Fast and challenging, designed to test even the most experienced drivers. Basic and advanced cornering techniques are explored and practiced in safety. Our objective? To ensure you finish the day with a systematic approach to cornering, transferring our skills to you, enabling you to manage and maintain optimum apex speed when driving a corner on circuit. You will dissect each corner and look at the minutia of driving differing radius corners and the effects of correct braking and observational techniques on circuit speed and safety. You don't just learn how to drive the Millbrook Handling Circuit, you are given the tools to work any circuit effectively.
Alpine Route
We are nearing the end of the session, this is the consolidation phase of the day. Piecing each circuit building block together to achieve safe fast consistent laps on one of the most demanding circuits you will ever drive. Blind crests, adverse cambers, differing road surfaces and every variation of radius you can imagine. Then finally back to the Handling Circuit to finish the day with a consistency challenge. Your instructor will expect 5 timed laps all within half a second of each other!!
Tick all of the high performance driver training boxes and you are ready for your next challenge, day 2 – Optimisation.
Half Day High Performance Driver Training Option
Duration: 4 hours
No. of Trainees: 1
Location: Millbrook
Price: £730 using your vehicle £995 using a CAT vehicle
Subaru BMW or Nissan 350z
Refreshments included
Full Day High Performance Driver Training Option
Duration: 8 hours
No. of Trainees: 1 or 2 – at your request
Location: Millbrook
Price: 1:1 basis £1280 using your vehicle £1750 using a CAT vehicle 
Subaru BMW or Nissan 350z
Price: 2:1 basis £675 pp using your vehicle £925 pp using a CAT vehicle 
Subaru BMW or Nissan 350z
Lunch and refreshments included