A structured half or full day high performance driver training course exclusively designed to develop core skill technique for safe, fast, confident track day enjoyment.
Discover how to construct a safe, fast efficient lap by understanding the WHY as well as learning the HOW.
Explore & develop
Specific circuit braking techniques on a circuit designed for the task
A safe & systematic cornering process
Understeer & Oversteer control on an open expanse of slippery concrete or tarmac
The vehicle's limit of adhesion & your own confidence, in safety
Control isolation
How your emotional state influences safety & dynamic platform balance
Vehicle respect & management for minimum wear & maximum reliability
Understand how traction & stability programmes work, their influence & involvement in safe driving on track.
Enquire Now

Discover & learn
The relationship between throttle & steering inputs at steady-state grip limit
How to manage cornering loads & tyre grip to attain safe speed with consistency & repeatability
Dissect each corner & drive differing radius corners at grip limit.
Look at the effect the correct braking & observational techniques have on circuit speed & safety.
Layer each building block together & achieve safe fast consistent laps.
Take away a systematic approach to cornering, enabling you to choose, manage & maintain your desired apex speed.
Tick all of the high performance driving boxes & you are ready for your next challenge – Optimisation
It's great to sit next to somebody who you trust
Track enthusiast & Engineer Steve booked the Performance Driver Training course to gain a deeper dynamic understanding of what was happening with his vehicle on track.
Our Trustpilot reviews demonstrate & confirm how this unique essential high-performance driver training course builds confidence, develops a safe & systematic circuit driving process, protects your investment & brings maximum driving & vehicle enjoyment.
Exemplary professional student tailored performance driver training
I firmly believe in the value of driver training, it is an investment that you can transfer to any car you drive to make you faster, safer, more competitive if you race and one day may just save your life and because of this belief I have attended sessions with many of the well known instructors both in the UK and overseas, I will not name names (save for one) however I will say it includes; – ex touring car champions – the head of chassis development for a major German manufacturer – formula 1 coaches – and many others (including karting with Tiff Needell).

It is in this context that I write this review for Cat Driver Training. Colin Hoad, the lead instructor at CATDT, has the ability to implicitly understand your needs as a driver and combined with his engineering knowledge he can explain the fundamental reasons why you are not as fast as you wish you were!

I have witnessed this on several occasions; on test days where the assembled crew of "performance drivers" had been practicing all day in the car to achieve a target time only to have Colin meet or improve our time when challenged to do the same in a single lap with no prior time in the car – this is a rare ability and is testimony to his exemplary understanding of the limits of a car…

The team at CATDT are tireless in their commitment to ensure you are satisfied as a customer and demonstrate the professional behaviors you would expect from the best large organisation whilst continuing to deliver a personal service second to none. I have no hesitation in recommending them to anyone that wishes to improve or hone their driving ability whether trying to get the best from your car, be safer on the road, faster on the track or learn the subtleties of the Nurburgring…

Neil
Read more 5 star reviews
Client coached at over 185 track days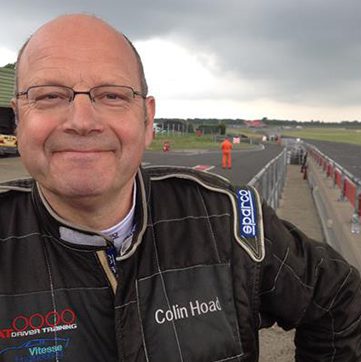 Over the last few years, I've coached clients at over 195 track days on UK circuits, the Nurburgring & Spa – our favourite European circuit.
Regularly enjoying days for mysel – 6 last year – this gateway course is borne from hands on knowledge & experience.
Colin Hoad, CATDT Founder & Chief Instructor
I'm definitely a faster & safer driver
Watch more about Richard's experience below & also find out his answer to the question: Are you a better driver than your Dad (Martyn Marshall, driving master & brother of saloon racing legend Gerry Marshall)?
Discover the hidden nuances of your chosen marque with the UK's leading experts on vehicle dynamics. Choose from a Half or Full Day one to one coaching.
Performance Driver Course Details
Full Day
8 hours coaching | 5.5 hours driving
Location: Millbrook Proving Ground
Delegate to Coach Ratio: One to One
Price: Your Car £1280 | CAT Vehicle £1750 (Subaru/350z)
Delegate to Instructor Coach Ratio: Two to One
Price: Your Car £675 pp | CAT Vehicle £925 pp (Subaru/350z)
Half Day
4 hours coaching | 3 hours driving
Location: Millbrook Proving Ground
Time: Choose between 09:00-13:00 or 14:00-18:00
Delegate to Instructor Coach Ratio: One to One
Price: Your Car £730 or CAT Vehicle £995 (Subaru/350z)
Lunch & refreshments included (as appropriate)
Do you have a particular requirement or technique you would like to focus on? All our training courses are ALWAYS tailored to YOUR objectives & YOUR car.
Contact Jo & Lynne to discuss your high performance driver training course & desired learning outcomes for the day. Call us on 01234 757633 or email using the button below.
Get in touch