A structured half or full day performance driving course exclusively designed to develop core skill technique for safe, fast, confident track day enjoyment.
Discover how to construct a safe, fast efficient lap by understanding the WHY as well as learning the HOW.
Explore & develop
specific circuit braking techniques on a circuit designed for the task
a safe & systematic cornering process
Understeer & Oversteer control on an open expanse of slippery concrete or tarmac
the vehicles limit of adhesion & your own confidence, in safety
control isolation
how your emotional state influences safety & dynamic platform balance
Vehicle respect & management for minimum wear & maximum reliability
Understand how traction & stability programmes work, their influence & involvement in safe driving on track
Discover & learn:
The relationship between throttle & steering inputs at steady state grip limit
How to manage cornering loads & tyre grip to attain safe speed with consistency & repeatability
Dissect each corner & drive differing radius corners at grip limit.
Look at the effect the correct braking & observational techniques have on circuit speed & safety.
Layer each building block together & achieve safe fast consistent laps.
Take away a systematic approach to cornering, enabling you to choose, manage & maintain your desired apex speed.
Our Trustpilot reviews demonstrate & confirm how this unique essential course builds confidence, develops a safe & systematic circuit driving process, protects your investment & brings maximum driving & vehicle enjoyment.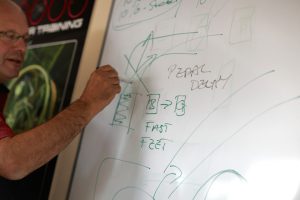 "Over the last 10 years I've coached clients at 185 track days on UK circuits, the Nurburgring & Spa – our European favourite circuit.  Regularly enjoying days for myself – 6 last year – this gateway course is borne from hands on knowledge & experience." Colin Hoad
Enquire now to begin your driving journey
Every time I've moved into a different car, I've done a half day session with colin at Millbrook. It's great to sit next to somebody who you implicitly trust… in a new vehicle that is confidence inspiring; to get to learn the envelopes of it in a completely safe environment where you can explore your abilities and the car's abilities. Steve – Porsche Enthusiast
Steve explains his learnings further in the video below.
Tick all of the high performance driving course boxes and you are ready for your next challenge – Optimisation.
I use these skills every time I go out. I don't think it's possible to unlearn what you taught me, which is brilliant. I'm definitely a faster and safer driver.  Richard Marshall – Track Enthusiast (and nephew of Gerry Marshall).
Watch more about Richard's experience below and also find out his answer to the question: Are you a better driver than your Dad (Martyn Marshall, driving master and brother of saloon racing legend Gerry Marshall)?
Discover the hidden nuances of your chosen marque with the UK's leading experts on vehicle dynamics. Choose from a Half or Full Day one to one coaching.
Course Details
Location: Millbrook Proving Ground
1 Day = 09:00-17:00 = 8 hours Coaching = 5.5 hours Driving
Delegate to Instructor Coach Ratio ONE TO ONE
Price: Your Car £1280 or CAT Vehicle £1750 (Subaru/350z)
Delegate to Instructor Coach Ratio TWO TO ONE
Price: Your Car £675 pp or CAT Vehicle £925 pp (Subaru/350z)
0.5 Day = 09:00-13:00 or 14:00-18:00 = 4 hours Coaching = 3 hours Driving
Delegate to Instructor Coach Ratio ONE TO ONE
Price: Your Car £730 or CAT Vehicle £995 Subaru BMW or Nissan 350z
Lunch and refreshments included as appropriate
Do you have a particular requirement or technique you would like to focus on? All our training courses are ALWAYS tailored to YOUR objectives & YOUR car.
Contact us for an informal chat to find out how