Fun Cup – 2013
As some of you know, I've fulfilled a lifelong ambition this year and started racing. I've always been into cars but more so the driving aspect, yes it's nice to have a nice car, very nice, but the thrill is still in the driving, no matter what it is. I've always considered myself a fairly decent driver but with room for improvement. After my first course with Colin at CAT Driver Training, I quickly realised that I was nowhere near the level I wanted to be and that the room for improvement was slightly larger than originally anticipated. So with a few more courses in the bag and a few track days behind me, I found myself craving for the next adrenalin rush. The next step. Racing!!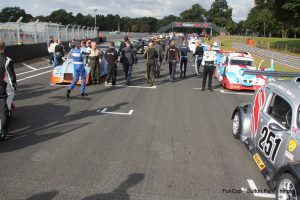 So I put myself forward when CAT Driver Training put together a team for this year's Fun Cup Championship. It's a one-make series, tubular chassis, single seater, mid-engined 130 hp car with the silhouette of the iconic VW Beetle. All cars are running the same engine, suspension (3 different spring rates available), brakes and road tyres with no driver aids which ultimately means that driver skill would dictate how well you do. The beauty of this championship is its endurance racing, typically a 4 hour race with compulsory pit stops and driver changes every 40 minutes. With a team of 3, I get 2 x 40 minute sessions per race which means plenty of seat time. With 20 – 30 cars per race, how difficult can it be?
We got told by Fun Cup Championship organiser Paul Rose that new teams, if they finish their first race they've done well, if they finish and don't finish last they've done very well, especially with 3 rookie drivers that have never raced before. Yeah right I thought. Don't get me wrong there was no way I expecting to win or get a podium but I was expecting to compete with some of the teams mid-pack then hopefully get some more experience, develop my race craft and hopefully get better each race. I mean, I'm a fairly decent driver, done a few driver development courses and always felt I did reasonably well.
The difference between track days and racing
So we arrive at Oulton Park. First days testing with other Fun Cup cars. The first part of testing was basically installation laps for the drivers, warm yourselves up get used to the car again, get used to the circuit trying to take in braking points and turning points. Just drive at 80% make sure there are no problems. So I was never really concerned that some Fun Cup teams were going hell for leather and going passed us. You quickly realise the difference between track days and racing.
There is no etiquette in racing whatsoever – any little gap, any corner, any side they will try to get passed.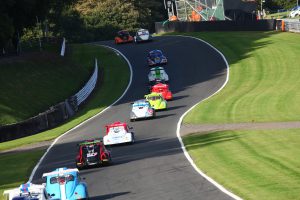 Next session out let's start to get in some quick laps, we now need to prepare for racing. I start to pound around Oulton Park. Still getting used to the car, braking later and harder, carrying more speed through the corners from the lap previous. Lap after lap getting quicker and quicker. What the f………… I'm pushing myself harder and harder and I'm still getting overtaken by other Fun Cup cars. When they go past I cannot keep up with them. The other drivers are throwing the cars into the corners, you can see the cars sliding in front of you, the back end on the verge of stepping out. These cars are being driven right on the edge if not beyond.
We finish testing and analyse the VBox data that we have, looking at each others lines, braking points, seeing who is faster and where. Basically trying to pinch time off each other to help give us our teams ultimate lap time. Plus we get told from Colin that the car needs to be looser, we need to be right on the edge in order to carry the speed through the corner. Easier said than done though, I'm not that used to having a car squirm underneath me on every corner especially at 70 mph plus.
Qualifying
The grid for a Fun Cup endurance race is drawn by ballot and qualifying times don't really matter. The only criteria for qualifying is that each driver needs to complete 3 full laps to race, but it would give us a chance to see how far away we are from the pace of the others. I get my stint in qualifying, I'm given my main objectives of just qualify, 100% safety if there is such a thing on a race track. Being fairly competitive I can't help but squeeze one flying lap in, just to get my eye in so to speak. The VBox analysis on the night previous certainly helped, as I match my quickest lap straight out the box from the previous days testing. The only downside being is now we have live timing and we can see the other cars lap times. We are a good 2-3 seconds off the pace and I'm not talking the front runners here, we are 2-3 seconds from competing with the back of the grid.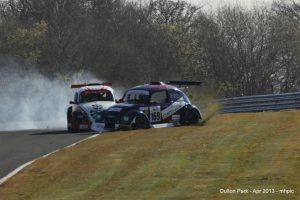 It doesn't seem too long before the race is ready to start and I'm going in as driver number 3. So I still have an extra 80 minutes preparation or should I say nervous anticipation to endure. The rain has started just before the start of the race and Peter that's starting the race, has already had a small incident with another car in qualifying – they both decided they wanted the same corner at the same time, so I can only presume he is doubly nervous. Looking back, perhaps Martin or myself should have insisted on starting the race. We did ask, but Peter said he was ok, nothing seems to phase him to
be honest and if anything I suppose it's an experience he won't forget.
The race begins and it doesn't take too long before we find ourselves at the back of the pack, not running last but certainly fighting not to be last. A few cars have come together and are forced to pit for repairs, which helps us out with our position. It doesn't take long before the pit window opens and our second driver change is upon us. Martin now takes to track and just continues with our objective, keep it safe. Our lap times are still off the pace but we are consistently getting quicker and we are keeping out of trouble.
Taking the seat
It's not too long before it's my turn to take the seat. My first race ever, I feel nervous but not overly nervous, which seems to subside once I hit the track. I come out of the pit lane with blue flags waving, just warning me that there are cars coming around the first corner which are immediately upon me as I exit the pit lane. There are about 5 cars in the train and every one of them just fly past. I attempt to tag onto the end of the train, trying to match their speed, see if they can help drag me around. They are slowly pulling away from me but not to the extent that I was expecting to be honest. At least today, they remain in view for a bit longer than yesterday. It certainly helped following other quicker cars, as I feel I'm definitely going a bit quicker than yesterday and making the car work harder through the corners. It's not long before a safety car comes out and within a few laps I rejoin the end of the train behind the safety car. It didn't take too long for the safety car to pull in and the couple of cars behind me soon get past. I try to follow as best I can but they slowly but surely pull away. For the last half of this stint from then on in, I seemed to be alone on the circuit. Not catching anything up, but not many catching me either. It felt like a trackday to be honest but with more commitment from myself. It's not long until the pit board comes out and I return to the garage. I get out of the car, sweaty, body shaking slightly with all the adrenalin pumping. What a buzz.
The team seemed very happy with my first stint, lap times have reduced slightly but we are still off the pace from the back markers. Another 80 minutes and I'm back out. I regather my thoughts,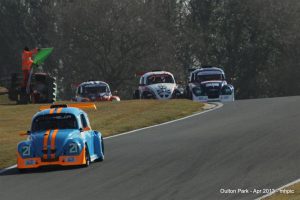 talk to the team mate that is waiting for his next stint to see if we are doing anything different, what's he doing that I'm not & vice versa. Time quickly passes and I'm stood there suited and booted ready for the car to pull into the pits for my next stint.
Last stint and we're running 20th out of 24. Ok, ok, there are a couple of DNFs but not all 4 cars behind us are in the pits for the rest of day. To be honest the closest cars to us are 19th place – 2 laps in front and 21st place – 2 laps behind. I get told again 100% safety, bring it home as this is the best we can achieve. Nothing silly! Who me? In all fairness the time flies by, this is what I love doing, driving.
I have a really good last stint, yes a few cars went past me and in all fairness very easily because when I saw them coming there was no benefit in making life difficult for them. Nothing to gain and everything to lose. Not only that though, when you are following another car, I tended to learn more. Which corners I can take more speed into and therefore carry more speed out of. Now when cars are getting passed me, they're taking a lot longer to get away.
Time just seemed to fly by and it's not long before the chequered flag came out. I won't tell you any lies. It was a relief to see it as I knew now that we were finishing our first race and the buzz I got from crossing the line was unreal and unexpected. I dread to think what it's like to take it in 1st place.
I managed to knock off 2-3 seconds a lap in my last stint, which would have put us right in the mix at the back of the pack had we been able to do this at the start of the race. Now we have to wait for Donington Park in a months time to try again and hopefully this time learn some race craft. What a learning curve and what a baptism of fire.
Donington & Snetterton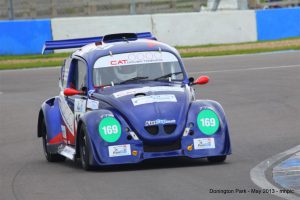 Since Oulton Park, we have had 3 more races, 2 were at Donington. A 1 hour sprint race where qualifying times mattered. We qualified 28th out of 30 and finished 24th. The second race was another 4 hour endurance race with a balloted start position again, started 13th and finished 24th again out of 30. Without making excuses on the second race, Martin had a small altercation with another car and we were in the pits for 5 laps making repairs. Without this, an 18th place finish would have been possible.
The third race was at Snetterton – this time a 5 hour race with 50 minute pit windows. 24 runners, started 15th (I started) and ended up last after the first lap. Don't ask, because I can't fully explain what happened but I gained a few places back and we finished 16th out of 24.
Sorry that this went on a bit, was only meant to be a small blog about the difference between racing and tracking but I got carried away.
P.S. Paul Rose you were right, even though we never finished last, I now understand what you were trying to say. The difference from track day warrior to race driver is a much bigger step than I thought.
Here is one of my quickest laps for those that are interested or still here. I won't put the Oulton Park one up as I think you may be sleepy enough.
Thanks for reading. Phil Marsh.
Update – 2018
I have been asked by CAT Driver Training to revisit this blog that I wrote back in 2013 and if I now have anything to add. Truth to be told I don't know where to start as so much has happened.
We continued as a team for another season in Fun Cup under the watchful eye of CAT Driver Training. We all then went our separate ways and I did another full season with another team. Personal circumstances then changed for myself and I have done a handful of races since the end of the 2015 season. We have plans for 2019 though, so watch this space.
What have I learned?
I learned that decision making can have a massive impact.
I always welcomed constructive criticism. No matter how well I thought I drove on some occasions, I knew there was always room for improvement. Especially in the race craft department.
A particular incident always sticks in my mind and is a lesson well learned.
It was the start of a Funcup race at Donington, opening lap and I'm maintaining position.
The lead pack was a bit bunched up going through Macleans and I managed to get a small run on one of the cars heading towards Coppice. I came off line to make a half-hearted attempt for an overtake through Coppice. The reality was I wasn't close enough and the driver in front was too experienced and was never going to give me that corner. I lost momentum out of Coppice as I had to back off slightly, the lead pack started to pull away. This allowed the cars behind to close up on me and they made a move into the chicane… That one move the corner before cost me two places, on the first lap.
What I now know I should have done, was maintain position and more importantly my line through Coppice, hopefully to get a run on the car infront for a move into the chicane before the pit straight.
This was highlighted to me when we watched the Vbox footage back. At the time I didn't realise the impact that one bad decision could make.
Now if I know I can't make an overtake stick, I maintain position and more importantly my line (assuming I don't need to defend) and wait for a better opportunity.
The other thing I needed to get better at was following other cars closer (much closer than I was) on all parts of the circuit. Spatial awareness played a part here and knowing how close you are to the car in front. Watching some Vbox footage back after a race, there were a couple of incidents in the race where I was convinced I was a millimetre maybe two away from the car in front. The Vbox showed a different story, as one of the cameras was mounted higher than the drivers view and pointing slightly down and I was at least 2 feet away!!! The task was set to get closer to the cars in front, sounds easy, doesn't it? There were a few barriers I needed to overcome. One was trusting the car that I was following, especially around corners. I think psychologically I backed off slightly to leave room for any error (mine as well as theirs). I also needed to overcome, not to ignore the car ahead as that would be stupid but learn how to see through them and beyond. Track knowledge played a big part but so did looking further ahead, especially through the corners and trusting your peripheral vision. This paid off as I was involved in some close racing in my last season at Funcup were I actually felt like a real racing driver at times.
I'm still nowhere near as good as I would like to be or to be totally honest as good as I thought I was before I started racing. But I know why. I think recognising you have weaknesses and more importantly knowing what they are, will ultimately help you get better. Don't be afraid of asking for help or advice because I know if I hadn't, I would be further behind than what I am.
Thanks to Colin and his team at CAT as their help and assistance, it has been invaluable.
Phil