Driving for work continues to be the most hazardous work related activity you can participate in.  It has been estimated that up to a third of all road traffic crashes involve somebody who is at work at the time. This may account for over 20 fatalities and 250 serious injuries every week.
At CAT we create bespoke Driver Risk Management Solutions encompassing classroom, on road and off road training, to corporate organisations large and small throughout the UK. Course content is selected to assist you in improving the driving skills and reducing the occupational road risk of your employees.
Occupational road safety is important to everyone who travels as part of their work. Some employers believe incorrectly, that provided they comply with certain road traffic law requirements, e.g. company vehicles have a valid MOT certificate and that drivers hold a valid licence, this is enough to ensure the safety of their employees and others, when they are on the road.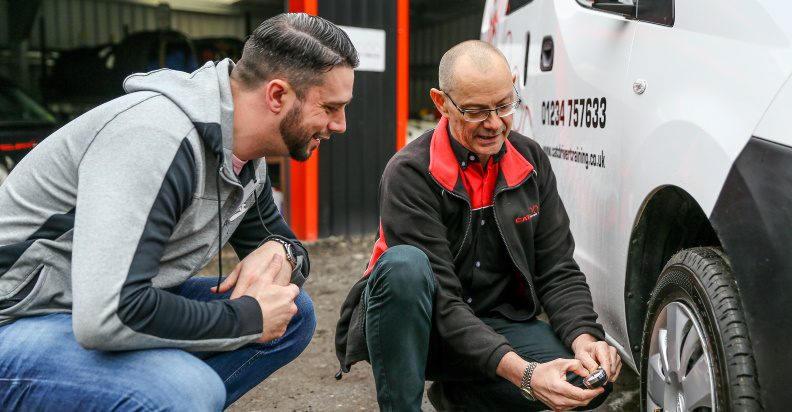 However, Health and Safety Law applies to on the road work activities as it does to all work activities. They are:
The Health and Safety at Work Act 1974 requires employers to:
Provide a Duty of Care to their employees and the public through an active Health and Safety Policy; and
Provide safe handling and maintenance of work articles.
The Provision and Use of Work Equipment Regulations 1998 states that:
All employees should have adequate training to operate any work equipment.
The Management of Health and Safety at Work Regulations 1999 requires employees to:
At a minimum, complete a suitable risk assessment of every risk to employees, carry out effective monitoring and reviews of all preventative and protecting measures. If risks are identified you must be seen to be taking the appropriate action to minimise the risk;
Provide relevant information to their employees about the risk identified by the assessment;
Repeat relevant training periodically; and
Train during working hours.
The benefits of Driving for Work training are many and varied:
Reduced maintenance and accident repair costs
Reduced insurance costs
Reduced fuel consumption and tyre wear
Reduced vehicle downtime
Improved customer service
Enhanced protection from litigation
Fulfilment of Health and Safety obligations
Improved staff efficiencies and well being
Some benefits are intangible. The increased safety and personal esteem of employees and the follow on benefits to family and friends are difficult to quantify.