Guest Blog by Greig Daly – Sales & Marketing Director, RPM Technik
Over the last 18 years as an independent Porsche specialist, we have enjoyed a constant flow of new customers into the business that are first time Porsche buyers. Personally, I find it an enjoyable part of the job, as we give people unbiased opinions of models and their associated pitfalls based on years of actual experience. We can save them not only money but heartache too.
Once the customer has narrowed down to a specific Porsche model that they wish to purchase, the next queries typically centre around running costs. When servicing or preparing a Porsche for sale, the costs are obviously split into two categories; labour and parts. If we examine the parts aspect of maintenance first, we can help answer our query.
Genuine vs Aftermarket Parts
The way in which Porsche manufacture their cars is in our opinion second to none. The product testing, research and development that go into each model ensures that they can withstand the rigours of both the Nürburgring in Germany at 30°C in June but also an owner driving to the shops in Stockholm, in February at -22°C.
To illustrate my point, here is a video showing a 911.2 GT3 RS being put through its paces at the 'Ring by Porsche factory race driver Kevin Estre.
Porsches are tested to 187,000 miles/300,000 kms for durability in all kinds of extremes. A process many manufacturers try to emulate. Clearly in achieving this quality for the whole car, it is ultimately dictated by the quality of the smallest of trims, fixing, bolts, metals and everything that make up the parts of a Porsche. As such when we started out, one of our aims was to utilise genuine Porsche parts that had been through this rigorous test regime. A genuine Porsche part will not only last longer than a 'pattern' part built to the same design, but not tested in the same manner, but is also provided with a Porsche 2 year warranty (so long as it is not consumable). In the unlikely event that part did fail, Porsche will provide a replacement.
To give you an idea of the price difference you can expect between genuine and pattern parts, here is a comparison for common replacement parts on a 2009 997 Generation 2 Carrera S (all prices inc VAT not fitted):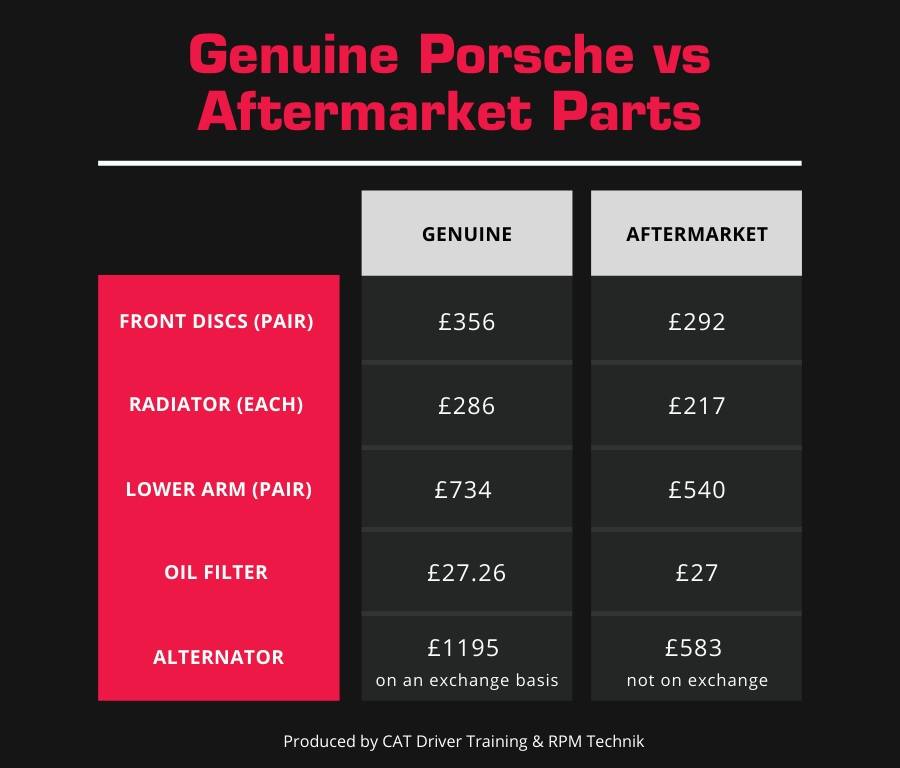 So, on the topic of parts prices, a Porsche part may be 10/15% costlier than another from an alternative non-genuine European parts manufacturer.  However, the Porsche part may have 50% more serviceable life in it, giving greater value for money.
Weighing up labour costs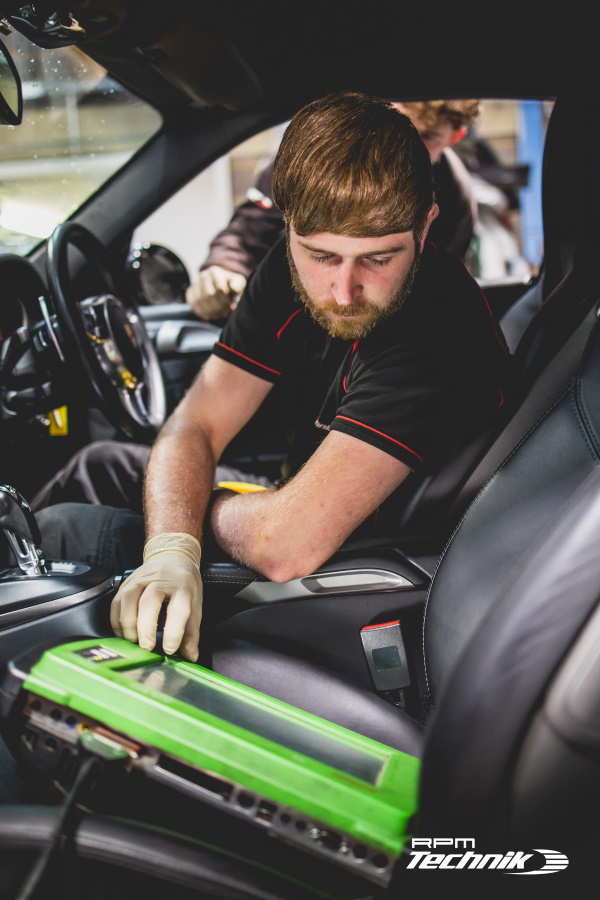 The second aspect we need to look at is clearly the labour cost of maintenance. Our labour rate is roughly half that of a Porsche main agent, which is obviously important. However, ultimately the hourly rate you pay with us, isn't as important as how many hours are taken to do a given job.
The way Porsche engineers designed the cars, ensured that they were, on the whole, able to be serviced and maintained with relative ease, thus speeding up the service time and saving the customer money. Some of this logic came from what Porsche learnt in racing (speed and ease of working on a hot car), but otherwise, it was just sound logic and good mechanical practice.
The other way in which we can help prevent your Porsche from being expensive to maintain is by using our experience of doing jobs multiple times, over many years on many cars. Lessons learnt and, ingenious solutions derived years ago are passed through our technicians to help save time and money. Some of this knowledge is often not written in books or technical manuals, but are crucial working knowledge. So, the labour cost to maintain your Porsche will never be 'cheap' but it can be great value for money, should it be cared for by a professional.

So, is a Porsche expensive to maintain?
In summary, your Porsche's maintenance costs will really be dictated by a few things: Who you choose to service it, and their experience with that model and its foibles. Your decision to run with genuine Porsche parts that will cost more initially but will be likely to last longer will also play a part. Another consideration is the way in which the car has been cared for up to date. Buy a bad one and it's going to be financially painful. Buy from a specialist outfit and the picture is a lot clearer from the outset.