Once you have the track bug, perfecting the optimum lap and most efficient racing line can become an obsession! Whether you are new to track days or are looking to get serious and enter the world of motor racing; tracking your performance is a key part of your driver development.
Many of our clients that previously used traditional data loggers to do this are now opting for the more convenient and cost-effective option of GPS Track apps. In our latest blog we provide an overview of the favourite apps, as well as available add-on options that advance reporting, data and video quality.
Getting started
Due to increasing popularity, the market is growing for GPS and data logging apps. If you are new to the world of track days or want to keep things simple, below are a selection of free/ trial apps with good functionality we recommend:
Track Addict Free (limited to storing 3 recordings – Track Addict Pro is £8.99)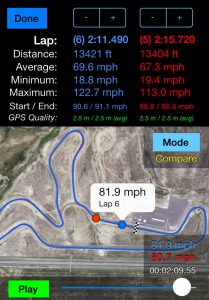 Road Course, Autocross, Rally, Drift, & Drag Racing
Works Almost Anywhere, 650+ Recognized Circuits, or Add Your Own
High-Definition Video Recording
Multiple Video+Data Overlay Options
Supports External GPS & OBD-II Devices
Lap, GPS, G-Force, & OBD-II Datalogging
Driving Line Analysis, Statistics & Lap Comparison
OBD-II Live Monitor, Code Scanning / Reset, and Datalogging
Optional Live Telemetry via Live.RaceRender.com (requires upgrade)
Record and Display in MPH or Km/h
Export Data & Video to RaceRender
Free Edition does not include live telemetry & adds a logo to videos
Integrated GPS Lap Timer & Display
Predictive Lap Timing (Circuit mode)
For full specs click here
Track Day Genius Free (free for 10 sessions with further options outlined below)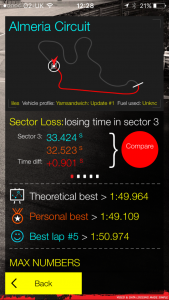 'Pay As You Go' purchase £2.99 per session or £4.99 for unlimited sessions per day. Subscriptions start from £19.99 a month.
Video sessions (record up to 1080p/60fps HD video direct from your iPhone)Telemetry overlay for video sessions
Full GoPro video import & control
Track line overlay on maps with 4 colour data zones; to visualise acceleration, coasting, light braking & heavy braking700+ preloaded race tracks with Leader boards
Dynamic vehicle profiles
Telemetry analysis including speed, acceleration / deceleration rate, cornering G-force & time difference
Real-time lap timing (accurate to 1/100th sec)
Predictive lap timing
For full specs click here
RaceChrono for Android Free
Track library of over 2000 pre-made race tracks
Custom user defined circuit &point-to-point tracks
Smoothly scrolling data analysis with synchronised graph & map
Support for external GPS receivers
Unlimited session length, good for 24 hour races
Additional features available as in-app purchases or in the Pro version listed below
Lap timing with sectors & optimal lap
For full specs click here
Getting serious
If you are craving more, whilst still remaining a cost-effective option, the full feature apps cram an impressive amount of in-depth performance analysis and data logging functionality into your phone. Our clients and the CAT community have rated the following as their favourite apps:
RaceChrono Pro – £17.99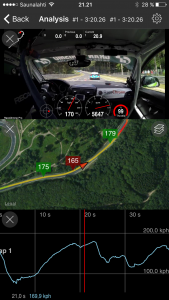 Track library of over 2000 pre-made race tracks
Custom user defined circuit & point-to-point tracks
Smoothly scrolling data analysis with synchronised graph, map & video
Hardware accelerated video export with configurable data overlay
Multiple camera recording & picture-in-picture video export
Video recording using internal camera
Remote control of GoPro® HERO 2, 3, 3+, 4 & 5 cameras
Linking & synchronising video files from almost all action cameras
Wi-Fi OBD-II reader
Support for Bluetooth LE heart rate monitors
Unlimited session length, good for 24 hour races
Session data export
Lap timing with sectors & optimal lap
Predictive lap timing & time delta graph
For full specs click here
Harry's Lap Timer Petrolhead – £19.99 (other editions are available)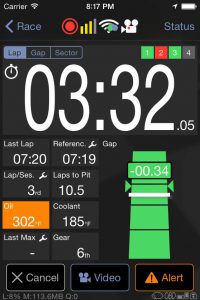 'No Touch' operation on track
Stores all sensor data in its database for later analysis
Visually shows line driven and lateral acceleration
Braking & acceleration points analysis
Corner & straight speeds analysis
Lap to lap comparison to analyse impact of line driven
Histogram view on speed, longitudinal+lateral acceleration, & height
Enhanced Analytics incl. video frame display
Records Full HD, HD & SD videos
Picture in Picture overlays
Can join data recorded on several devices in one database
Supports a large variety of internal and external sensors
OBD II integration
To date, the online database has more than 450 predefined tracks
Absolutely smooth and intuitive user interface
Includes a manual stop watch
Automatically starts & stops lap and sector timing using triggers
Shows times lapped by track as a Hall of Fame
For full specs click here
Accuracy and upgrades
When considering investing in one of these apps, it's important to note that the stand-alone versions rely on GPS data gathered from your device's internal GPS sensor. This will never be as powerful or accurate as a dedicated GPS receiver. The apps listed in this article are compatible with external GPS sources, as well as OBD-II dongles to provide more accurate data and vehicle dynamic reporting.
For those of you wanting to show off your best laps in style, you can also upgrade the video quality with dedicated action cams such as GoPro Hero 4.
To find out more about compatible upgrade options, Harry's Lap Timer founder, Harald Schlangmann, has written an in-depth article listing recommended accessories – click here to read.
Keeping it simple
When asking the CAT Community to recommend their favourite apps, we received a lot of praise for the Aim Solo 2 lap timer. Despite it not being an app, this precise yet simple GPS recorder can sync with either your PC or iphone for data analysis – perfect for identifying new racing lines and corner approaches.
Currently retailing for around £360 it offers a happy medium between the simplicity and convenience of apps and the more traditional performance meters such as Racelogic's PerformanceBox .
Aim Solo 2 features
Race mode selection
Data recall on screen
Wifi communication
iPhone communication
SmartyCam HD connection
For full specs click here
Sticking with tradition
If you are seeking the ultimate in GPS accuracy, car performance data and stunning wide-angle HD video with graphic overlay; the traditional data logging systems are still favoured amongst racing professionals due to their power and the quality of dynamic data. The latest VBOX Video HD2 is used by well-known car manufacturers but will set you back around £2,724 for the entire package.
So … which option is best for me?
The benefit of the increasing variety in the market is that performance data is now accessible to all levels of driver. You can start with the free apps to dip your toe in the water, then slowly upgrade and add-on external devices as your driving journey evolves.
CAT client and racing pro Stefano Leaney shares his thoughts below:
Phones only really work with external GPS, this will suffice for most track day users. If you're a track day hero, buy an Aim Solo, this will cover all of your needs. If you're racing, then invest in something that gives you brake pressure and throttle too!!
The fastest upgrade for your track or
racing performance
is your driving technique. Our tailored track and racing courses allow you to hone your skills and unlock your potential and that of your car.
Our coaches have years of experience in both professional racing and engineering and will also work with you on vehicle set-up. To train with the best dynamic coaches in the UK contact us for a chat on 01234 757 633 and discuss your personal driving objectives.