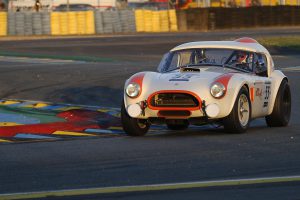 You've been looking forward to it for weeks and today's the day. You're off to the track to embrace the racer within. Hopefully you'll learn some new skills, improve your existing ones, have some fun and above all, come away without incident. But wouldn't it be a shame if just 5 minutes into your much awaited track day, you ran into a small problem which rendered you unable to continue with the rest of session. All that time, money and effort down the drain, which perhaps, could have been avoided with a bit of forward planning. Of course, there's the mechanical checks which you should always make before hitting the track and we'll be covering that in a future article. But in today's post, we've put together a list of essential items to put in your boot before you head to the track – so if something untoward does happen on the day, you won't have to pack up and head for the exit earlier than planned.
Screen cleaner: If you're hitting the track in winter, a low sun on a clear day can turn even a marginally dirty screen into an unnecessary hazard. Roll on to summer however and within an hour at the track, you'll have so many bugs on the screen it can become difficult to see out. Autoglym's Fast Glass is our personal favourite (we've not been asked to plug it, just in case you were thinking that by the way – it's just very good). Don't forget you'll need a clean, soft cloth – preferably microfibre. Costco's are particularly good and cheap.
Gaffer Tape: Some call it the FORCE. It has a dark side and light side and it holds the universe together! Seriously though the passes you are given to stick on your windscreen to allow track entry are often paper based. They're difficult to remove on a wet day. Tear off a piece of Gaffer tape and place it on your windscreen and then stick the pass to the Gaffer tape. The Gaffer tape is easier to remove at the end of the day than the paper and gummed adhesive, that always seems to mash into a 100 pieces and takes 10 mins and many broken nails to remove. Gaffer tape is also a very handy addition to any tool box.
Tools: A simple tool kit can be a life saver. Small problems can become day stopping big ones without a simple adjustable spanner or screw driver to hand. Think about a low-level light weight alloy trolley jack as well which you can get these days for under £100. They're great for inspecting and checking those difficult to see inner tyre faces and sidewalls.
Axle Stands: Yes, we know we've just told you to take a jack to the track so why take an axle stand as well, you might ask. A jack is all very well for lifting the car up a bit to see the inner tread or to have a quick inspection of the underside of your vehicle, but if you need to do any work under there, an axle stand is by far the better and safer option.
Water/Cool Box: Research shows that if you dehydrate by just 1 – 2% you can lose up to 20% of your ability to concentrate and the track is the last place you want this to happen. Dedicated track cars typically have no air con and no insulation and that significantly increases the risk of dehydration to the driver but even in an ordinary road car, you're guaranteed to perspire. Don't forget too, those short breaks between sessions on a warm summers day, when you're tempted to find a nice spot to enjoy the sun … and dehydrate some more.
A Source of Energy: It's not just your car that needs fuel. Slow release energy foods are great for a snack when blood sugar levels dip before lunch or at the end of the day. Bananas and energy bars are a quick and easy favourite.
Towing eye: If you have not looked for your towing eye in the boot then it's worth a rummage before setting off. In the last year, being asked for a spare towing eye has become as much of a regular feature of our track days as having a cuppa and a sausage sandwich.
Tyre Management: If you read our recent post on tyre pressure and track days, you're probably used to adjusting your tyre pressures down through the day to keep them in their operating window. But once your tyres cool, they'll be under inflated. Tyre pressure adjustment can be crucial for safety and optimised driving enjoyment. Don't forget as well, if you plan on driving home on the same tyres that you used on the track – you'll need to check the tread to ensure it's not under the 1.6mm legal limit. To remain legal and safe for the journey home, always pack these three items:
Battery powered tyre inflator
Tyre pressure gauge
Tyre tread depth gauge
Torque Wrench: If your wheels are not new and have any kind of corrosion on the face where they bolt to the hub, the wheel can move and fidget on the hub face even when tight, resulting in loose wheel nuts. The constant heat cycling from hot to warm and perhaps even to cold exaggerates the problem. Make sure you know the wheel nut torque setting for your vehicle. Check them at the start of the day and lunch time too if you want peace of mind. Remember not to over tighten them as this can stretch the wheel stud material and may lead to a fracture. And on that note, it's a good idea to clean and inspect your wheels before the start of the day and in between sessions to inspect for any cracks.
Race suit? For many, the idea of donning a race suit to drive a road car on a track day is overkill and if you've done that, you've probably been on the receiving end of a few friendly jokes. But answer this – does your road car have any kind of fire suppression fitted? What circuit are you driving on and how long would it be if you were unconscious before a fire marshal got to you? Of course, this all sounds a bit alarmist, but there's no harm in stopping to think of the potential dangers of a circuit before driving on it. Count the number of manned marshal posts at the Nurburgring when compared to Brands Hatch Indy circuit. The difference will surprise you. Keep safe and think about fitting a fire extinguisher for added piece of mind, and of course the peace of mind of your loved ones.
Of course, there's two more all-important track day essentials that we haven't mentioned. Your driving licence and your crash helmet. You won't get very far at all without those. If you would like to learn more on this topic, about track days in general or about our advanced track day tuition, call us today on 01234 757 633.